If you h

ad a claim that required you to list your personal possessions, could you? We are talking about inside the house, the garage, the shed. This list will include furniture, appliances, clothes, tools, sporting equipment - down to replacing items from pots & pans to socks.

Due to the weather related issues, the insurance department recently published an article about 'inventorying' your household contents and it is attached for your review.
We recommend taking a camera and photographing each room, closet, drawer and cabinet. Of course, a paper list is also a good idea. Once you have your inventory, a copy can be sent to us to keep with your file.
Insurance Department's Inventory Article
Grilling Safety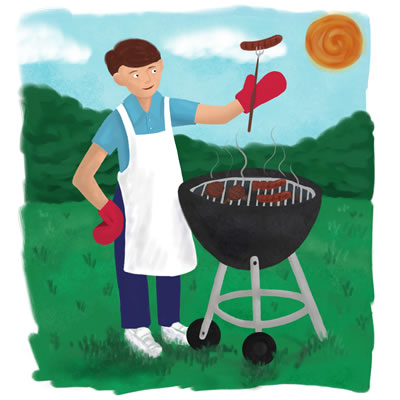 Most accidents and fires involving grills occur when the grills are used for the first time. Here is a quick video to remind us how to grill safely. Save a burger for us!
2012 HSA Limits Increased
HSA Contribution Limits: The 2012 annual HSA contribution limit for individuals with self-only HDHP coverage is $3,100 (a $50 increase from 2011), and the limit for individuals with family HDHP coverage is $6,250 (a $100 increase from 2011).
HDHP Minimum Required Deductibles: The 2012 minimum annual deductible for self-only HDHP coverage remains $1,200 and the deductible for family HDHP coverage remains $2,400.
HDHP Out-of-Pocket Maximum: The 2012 maximum limit on out-of-pocket expenses (including items such as deductibles, co-payments, and co-insurance, but not premiums) for self-only HDHP coverage is $6,050 (a $100 increase from 2011), and the limit for family HDHP coverage is $12,100 (a $200 increase from 2011).
Everything else, including eligible expenses and penalties, remains as is. As a reminder, as of Jan. 1, over-the-counter medications (with the exception of insulin) are no longer a covered expense under an HSA, FSA, or HRA without a doctor's prescription, and the penalty for using HSA funds for ineligible expenses increased from 10 percent to 20 percent.
Did You Know?
Allen Insurance Group has a free prescription discount card for you, your family and friends that will help with the cost of prescriptions? This is especially helpful for persons without medical insurance, on medicare or with a high deductible. You can print this card from our website at www.allenrxcard.com or call us and we will mail a card or two to you.
Wellness Corner
The average daily steps taken is only 3,000.
The recommended daily steps is 10,000
Privacy Notice
This notice will also serve as your annual Privacy Notice that we are required to send each year by Federal regulation. The notice is available on our website at www.alleninsurance.com or you may call our office
302-654-8823 to request one be mailed to you.

<![if !supportLineBreakNewLine]>
<![endif]>
410 Delaware Ave Wilmington, DE 19801
302-654-8823
When looking at payroll for purposes of calculating workers' compensation (WC) premium, overtime counts. Under Rule V. of the Delaware Compensation Rating Bureau manual it specifies that remuneration includes not only wages or salaries, but also total cash received for commissions or draws against commissions, bonuses, stock bonus plans and extra pay for overtime work. While this is not true in every state, it is the proper calculation method in Delaware.
You can be spared the sting of a difficult audit by having your policy under a pay-as-you-go program for paying the premium monthly based on your payroll.
Several of our companies now offer this program and we will be happy to discuss it with you in more detail and provide a quote to you.